Data Cabling Installers For Big And Small Companies
We have provided a range of data cabling for Birmingham, Newbury, Oxford and many other cities throughout the UK since 1991. Our network cabling systems are directly installed by a team of engineers and meet industry standards.
You can rest assured as we use strict controls to measure the performance and constantly seek customer feedback. Our complete solution of structured cabling supports both data and voice applications and is designed to future-proof the network infrastructure.
Data Cabling Experts
We offer a wide choice of branded fibre optical and structured cabling products for Cat 5e, Cat 6, Cat 6a, single-mode and multi-mode fibre optic installation requirements.
Telecentric provides a one-stop solution for all your nationwide and local area networking needs. Including the direct supply of cables and components to cover your cabling infrastructure requirements.
Our Engineers:
Each of our engineers has the following:
DBS Enhanced Clearance
CSCS/ECS Cards
IPAF Licence  (Boom & Scissor Lift)
PASMA  (Tower Use)
Telecentric are: SafeContractor Approved
Why Do I Need Structured Network Cabling?
It is a way to enhance network capabilities. This is designed to be more efficient and faster than traditional wiring and allows the business to run at greater speed.
It also helps to integrate the Phone System, CCTV, Access Control etc into the network using a standard structured cabling solution and provides flexibility for adds, moves and changes.
Benefits of a Structured Cabling System Installation
Easy to manage – It is easy to manage and administer with a minimum of staff input; making changes to the system is an easy task, with minimal disruption.
Supports future upgrades – the modular design allows us to add, move and change cables easily.
High return on investment – Structured cabling system unifies the IT multiple voice, video and data. Thus it reduces the need for updates and offers cost-effective maintenance.
Minimises installation time – it allows for more efficient changes to the network.
Reduces congestion and decreases the chances of crushed cables and blocked airflow.
Flexibility – structured cabling consolidates the wiring system into a single infrastructure that transfers data into multiple formats. This allows the system to be easily dismantled and we are able to move from one location to another without any fuss.
Cat 5e Cable
The Cat 5e supports 1-gigabit speeds and bandwidth up to 100MHz and less interference than its predecessor. It is a cost-effective solution for applications such as media streaming that need to transmit large data sets.
Minimises the amount of crosstalk between the wires within the cable and it results in overall transmission speed.
Cat 6 Cable
With a much higher signal to noise ratio than Cat 5e and bandwidth up to 250 MHz. It is with multiple and simultaneous network demands that include larger data transfers, and video conferencing. Supports 1-gigabit up to 100mtrs and 10-gigabit between 37mtrs and a maximum of 55mtrs depending on crosstalk.
It is one of the more effective crosstalk reduction options.
Cat6 cabling provides many advantages and benefits over Cat5e cabling, when Cat6 was first introduced it was approximately 50% more expensive than Cat5e, which made it cost prohibited. However, Cat6 costs have reduced substantially over a number of years to a point where they are almost on par. Cat6 provides greater bandwidth over Cat5e and allows for higher data transfer rates.
Cat 6a Cable
It has double the bandwidth (500MHz) of Cat 6 and far less interference. Is better for greater distance needs and handles 10-gigabit up to 100 metres compared with a maximum of 55 metres for Cat 6, using additional and tighter twists with additional insulation to reduce crosstalk.
With the increase in more Network devices such as VoIP Phones, Wireless Access Points, CCTV, Audio Visual and Digital Signage more types of powered devices are calling for Power over Ethernet and these devices requiring higher power levels, Cat6a cable will support the new PoE Standard IEEE802.3bt  which provides up to 100W of power per cable.
Which Category Is Right For Me?
It depends on whether you're adding to an existing installation, what type of applications you wish to run in the network and the network speed required.
It is a huge myth that the Cat 6 cable is used in Gigabyte Ethernet but in reality, if Cat 5e is correctly installed then it will help to handle a 1000 base T.
Always try to future proof your network to allow for upcoming technologies, consider the life expectancy of your network and the building you occupy, is this 5, 10, 15 or 20 years and which cabling solution would best suit your needs.
If the planned lifetime of a new cabling system is 5 years or more, Cat6a should be considered, if the planned lifetime of the network is 10 years or more, Cat6a definitely appears to be the favoured solution.
We are the leading installers of data cabling in Birmingham, Oxford, and Newbury amongst other cities. Our products include wireless digital systems, IP CCTV Systems, access control systems, Avaya IP office phone systems, and more.
We operate a safety policy designed to minimise the risk factors whilst working within buildings. Look no further for a qualified and accredited company to undertake the work anywhere in the country.
All our engineers are trained and accredited by the manufacturers.
All our cabling installations are tested using Fluke, industry-standard test equipment.
Construction Products Regulation (CPR) For Cables
Most cables designed for permanent installation within domestic, residential and commercial buildings are now subject to the Construction Products Regulation (CPR), covered by BS EN 50575. This became a legal requirement in July 2017.
BS EN50575 enables designers and installers to consider the contribution that cables make to the spread of fire. Cables are a particular concern as they run between rooms and floors, above ceilings, and are often made from flammable materials. They can be a source of ignition if badly installed, damaged or faulty.
Cable Classes (Euroclass) range from Eca, Dca, Cca and B2ca and fire tests are conducted and independently verified by a Notified Body to give them their CPR class (Euroclass) verification rating.
It is up to the designer, specifier or installer to satisfy themselves that the products chosen are appropriate for the application and meet any contractual requirements. Care will be taken to assess the risk of fire within a building and the potential ease of evacuation and the appropriate CPR class (Euroclass) of cable will be specified for the appropriate fire risks in the building or application.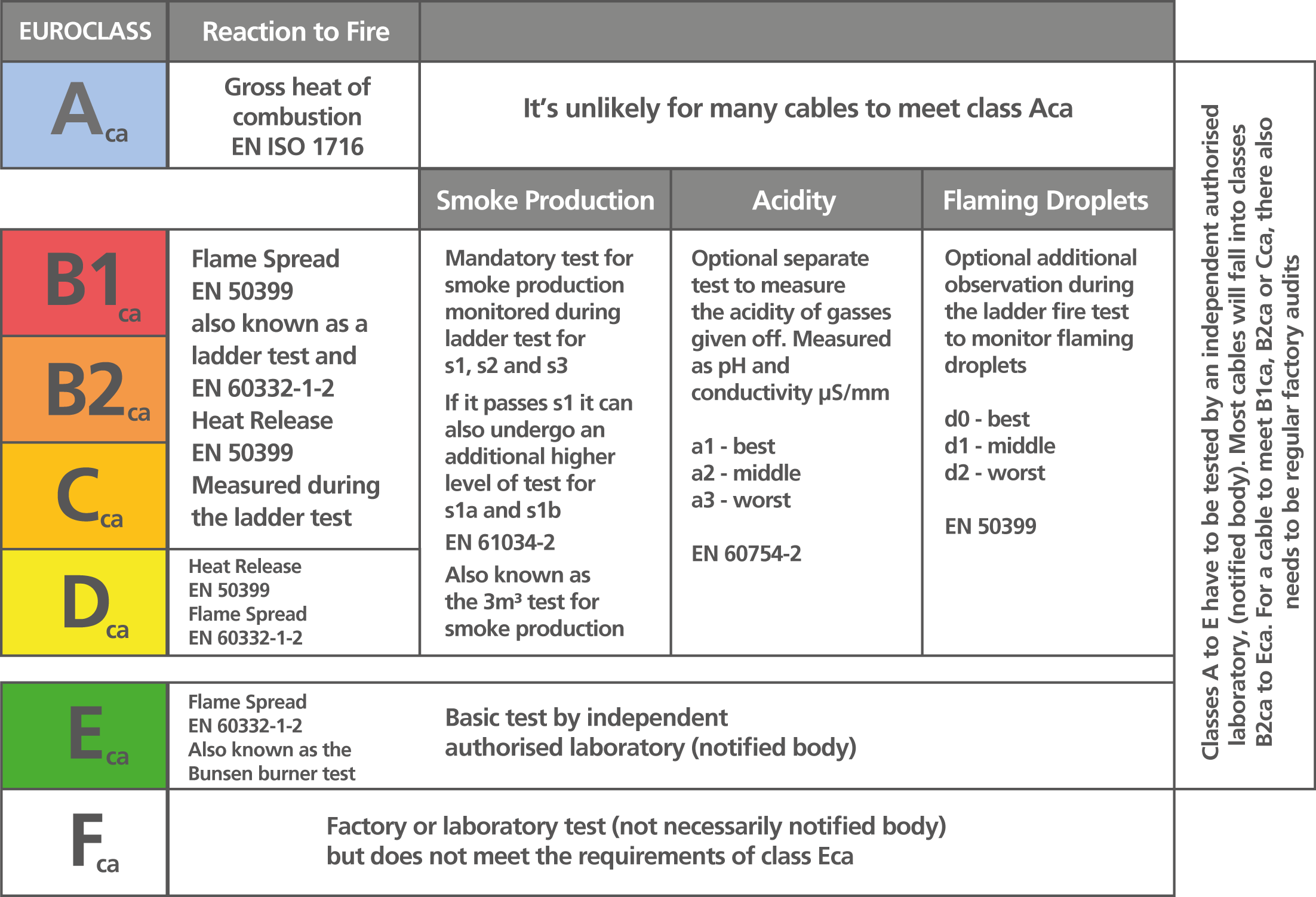 Contact Us For Data Cabling Solutions
If you're interested in discussing your data cabling requirements, please contact us. Phone: 0118 402 5400 or email us at info@telecentric.co.uk or fill out the form on our contact page.